Authentic Cupping Techniques
Sorry This Course is Full
April 14 & 15, 2018
Saturday & Sunday 9am-4pm
Florida Training Location
1214 Fraser Pine Blvd.
Sarasota, Florida
Cupping Overview
Cupping is a natural therapy that has been used in Chinese Medicine for many centuries. Cupping has been used to promote circulation, remove stagnation in both blood and energy pathways. It reduces pain and chronic inflammation, removes congestion, promotes lymphatic drainage, breaks up scar tissue and muscle adhesions, and gets rid of coldness and dampness in the body.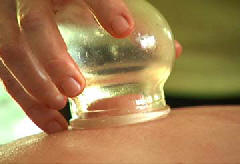 Cupping has been used effectively by TCM practitioners for healing many illnesses. In the United States, more and more holistic practitioners want to learn this ancient technique for healing and prevention.
For massage therapists, adding cupping techniques not only brings excellent healing results, but also reduces body strain. Authentic cupping offers better results than hand pulled suction cupping.
Course Agenda
In this training, you will learn the history of cupping, and the indications and contraindications of cupping therapy. You will also learn authentic cupping techniques, including stationary cupping, energetic moving cupping, slide cupping, jumping cupping, and the use of various size cups, and techniques in various locations on the body.
Register Early To Ensure You Get Into the Program
Course Fee $395
To Register Call 617.877.0272 or
via PayPal
If you have any questions, please Contact Us
Cancellations made beyond 5 days will qualify for a full refund less a 10% administration fee plus credit card charges if applicable. Refunds cannot be made for withdrawals initiated within 5 days of the scheduled course /workshop. However, we will provide a FULL credit towards any Chinese Medicine for Health course/workshop within one year. If you use your credit within the year for another workshop and cancel, or do not attend there is no further refund, or credit. If you do not attend, or leave once a course/workshop starts, there is no refund or credit If we need to cancel a course/workshop your deposit will be refunded in full or credited to another course/workshop. Please allow up to two weeks for the refund to be processed.